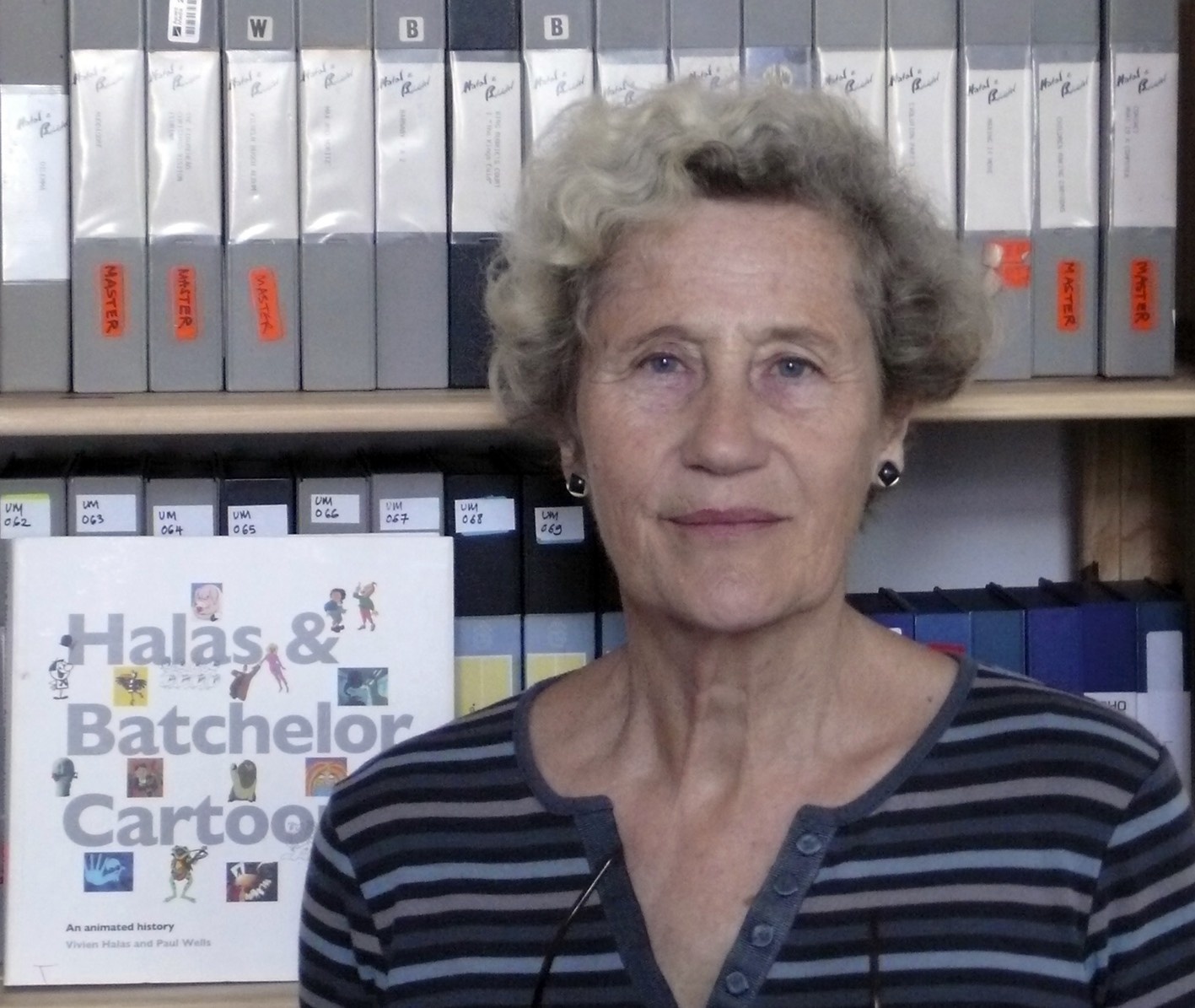 Park Circus is proud to represent the Halas & Batchelor Collection, the films made by the ground breaking British animation studio Halas & Batchelor between 1940 and 1990.
We spoke to Vivien Halas, the daughter of John Halas and Joy Batchelor, about the collection, her memories of growing up around her parent's animation studio, and how relevant the films still are today.
PC: What can you tell us about the origins of Halas & Batchelor and the historical moment from which they originated?
Vivien Halas: The studio was officially formed in 1940. My parents been making entertainment and advertising films together since 1938 but as the war approached, the ministry of information seconded the advertising agency they were working for. They had to form a company to get paid so they founded Halas & Batchelor Cartoon Films and cemented their partnership by getting married.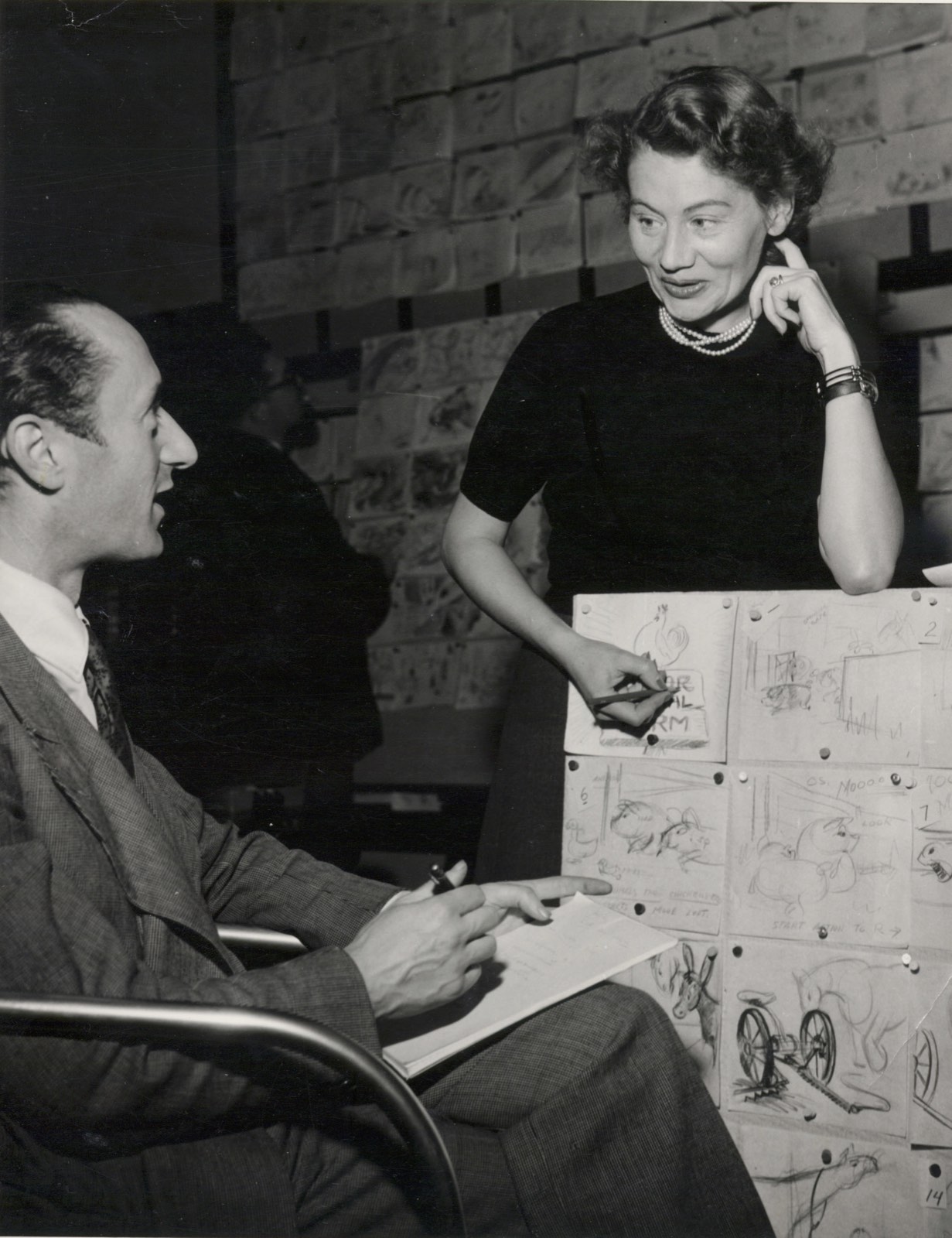 PC: What were the early films like?
VH: The very first films they made, before they were Halas and Batchelor, were mostly ads and entertainment films. They were charming but not particularly sophisticated. Thanks to the huge number of films they had to make for the war effort, once the war broke out, they got better and better. They developed the knack of turning dull subjects into amusing films. Dustbin Parade (1941) for instance tells the story of some little bits of scrap metal that go around encouraging other scrap metal to be melted down and turned into ammunition. Audiences were far more taken with these animated films than most of the live action information films.
By the end of the war they had made over 70 short films as well as two feature films that were for training and were technically rather wonderful – Handling Ships (1945) and Water for Fire Fighting (1948) – still employed by the government they went on to make The Charley Says Series (1947) - six films explaining the social security system to the public.
They also made films just after the war for the recovery of Europe, as part of the Marshall Plan. They made a rather good film called The Shoemaker and the Hatter in 1949 that showed what a good idea it was to lower tariffs between European countries so that we could all work together. They were always making films to promote things socially, and then after that they also started making one or two films for themselves. So there is a lovely film called Magic Canvas (1948), which is an experimental film with music by composer Matyas Seiber who was a Hungarian émigré, like my father. It's really very beautiful, and if you think that it's all done without even having heard of computers, it's even more wonderful. It's very fluid and elegant and really integrated with the music, which was composed especially alongside the film.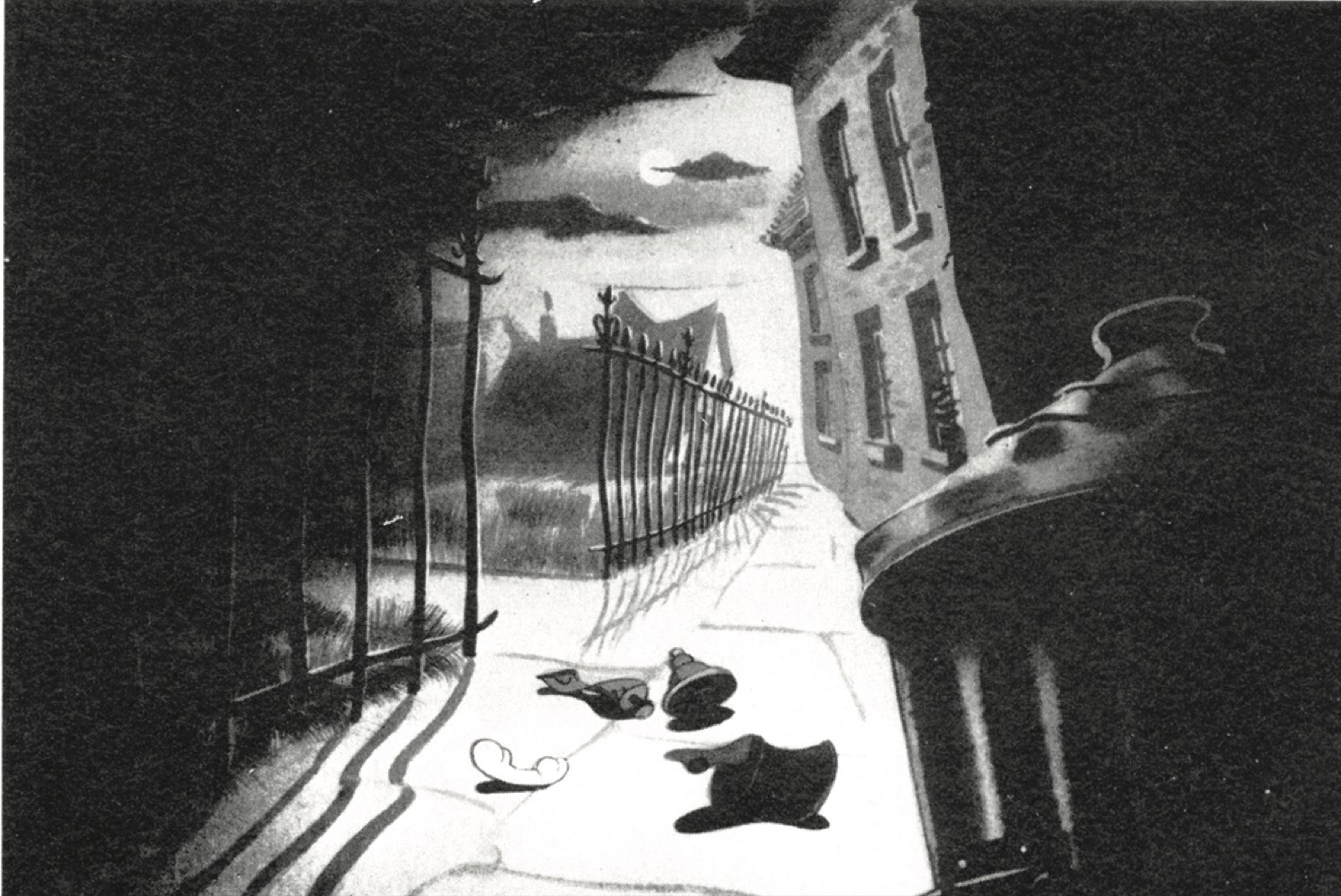 Credit: Courtesy of Halas & Batchelor
PC: Animal Farm (1954) is perhaps Halas & Batchelor's most well known film, why was Animal Farm so important when it came out and what significance does it still have today?
VH: It's based on George Orwell's "fairytale", as he calls it, and it's a satire. For my parents, it was the most wonderful project, because they'd been cranking out these short films at a great rate and here was a chance to make a feature and every animator and studio dream of making a feature. Here was a story that was really important and it chimed with their social interests: they were socialists and they really believed that film, animated film, could help change the world. So when they were approached for Animals Farm, they were absolutely thrilled. They spent a year working on storyboards. We always had Americans coming over and that was very exciting. In the early 50s, America was like Utopia - they had things we didn't have and it was all very wonderful. So we always had people coming to stay and coming to the studio and as children, my brother and I were pulled in to it because my parents were total workaholics, they didn't just work in the week, they worked on the weekends as well. When they were researching things, we were taken to farms to look at pigs and the topography of places and it was all very very exciting.
I suppose Animal Farm was their peak ; they had nearly a hundred people working on it, they had a fantastic team. There was another feature they made later, my mother's film Ruddigore (1966), but they didn't have anything like the same budget or number of people again. My mother got only one or two animators for Gilbert and Sullivan's Ruddigore, and I think it shows, but it's still a very underrated film and well worth watching.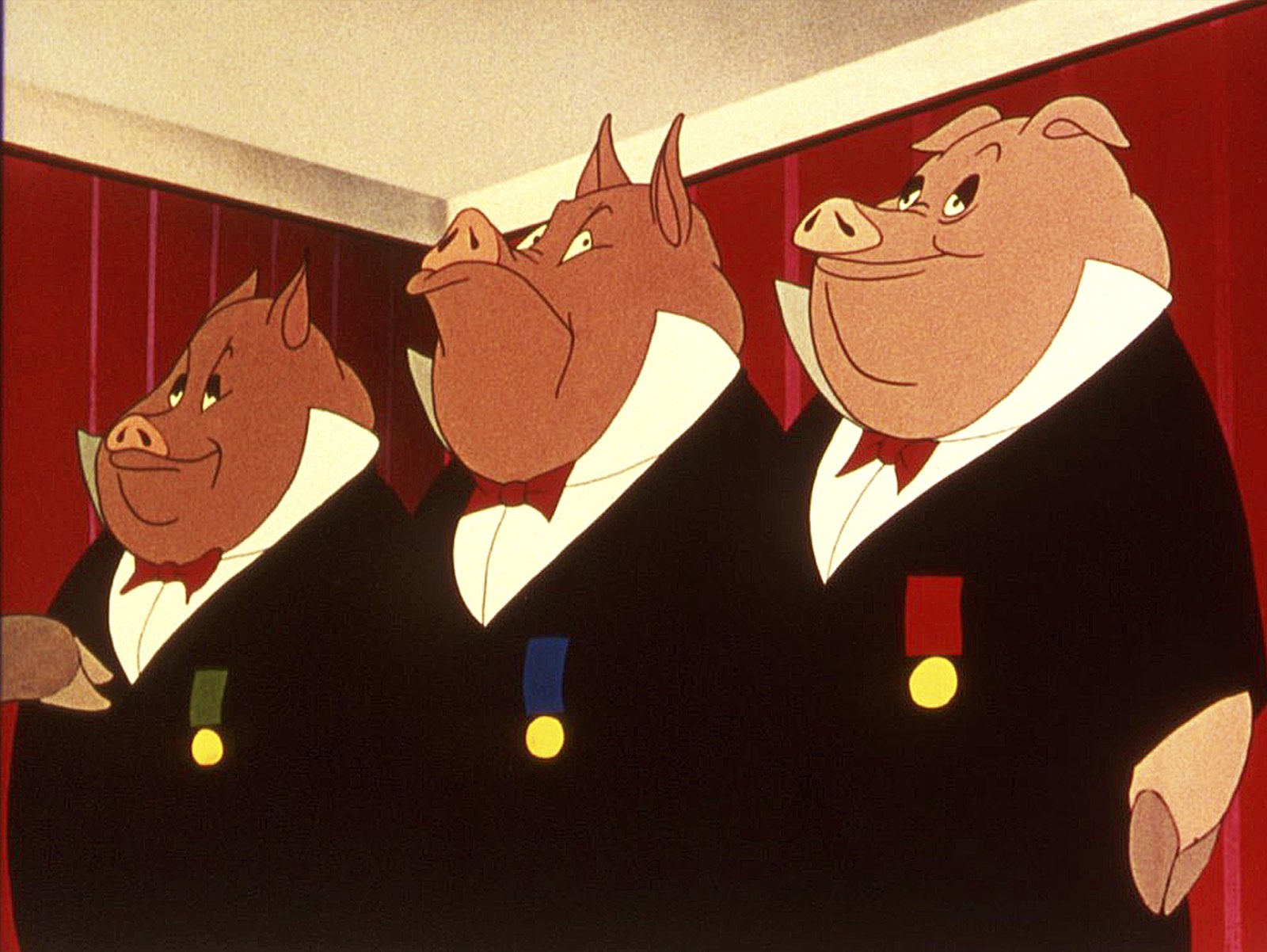 Credit: courtesy of Halas & Batchelor
PC: Do you have a favourite memory of being involved in the process of making films with your parents?
VH: On the weekends, as children my brother and I were always taken into the studio in Soho Square. Our parents would be working and we would be allowed to play on the Editola, used for editing films, or to draw on strips of paper and play around in the studio. At lunch time, we would go into Soho and have fish and chips for lunch, or we would go to the Chinese restaurants and learn to use chopsticks. A lot of my memories have to do with food, so that's all bound up with film.
One of the best things is that we used to get taken to the screening studios - because back then you couldn't do it on a computer - we used to go into a little screening theatre in Soho and watch not just the rushes, but also new animated films from the States. We'd see UPA animated films like a Unicorn in the Garden (1953) or Gerald McBoing Boing (1951) and Rooty Toot Toot (1951) which we thought were really special.
In those days, you could get from where my parents lived in Hampstead into the office in Soho Square in just 10 minutes - you couldn't imagine it now.
PC: Do you have a favourite film from the collection?
VH: My favourite has to be Automania 2000 (1963) that is being shown at the MOMA in New York now as a central part of their exhibition called Automania. It's one of the films that lasts. A lot of the satirical things they did are key to human behavior, a bit like Animal Farm, Automania 2000 is, well, just right. We ARE all clogged up by overproduction so it's a very prescient film.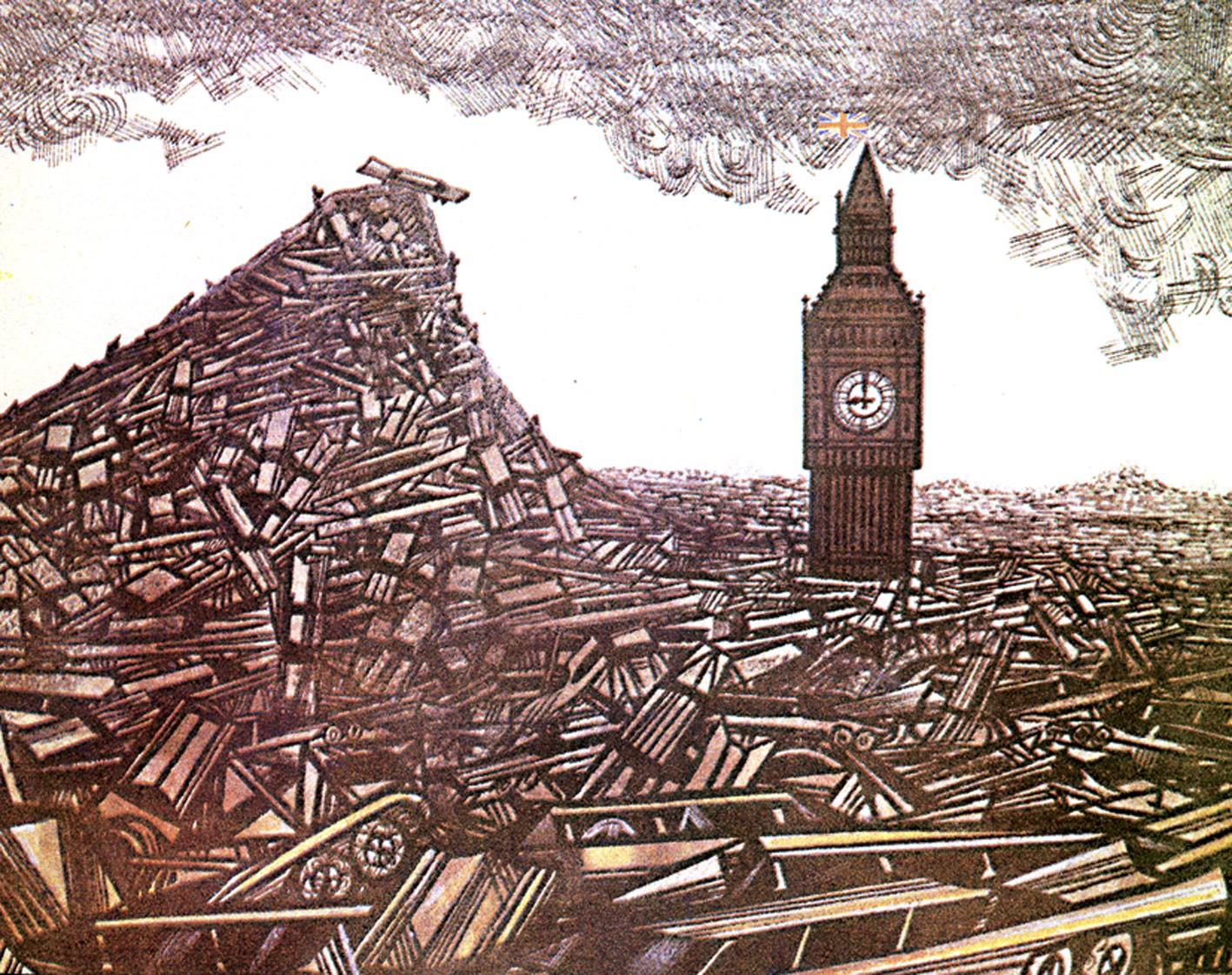 Credit: courtesy of Halas & Batchelor
The other favourite of mine was the film that they made for the Festival of Britain which is The Owl and the Pussycat (1952) and is one of the first stereoscopic films. Obviously, it's difficult to show because you need a special screen, but the BFI do have a left and right eye film reels. That film, also with music by Matyas Seiber, just blows me away because it's fun and the design is kind of crazy, and I love that.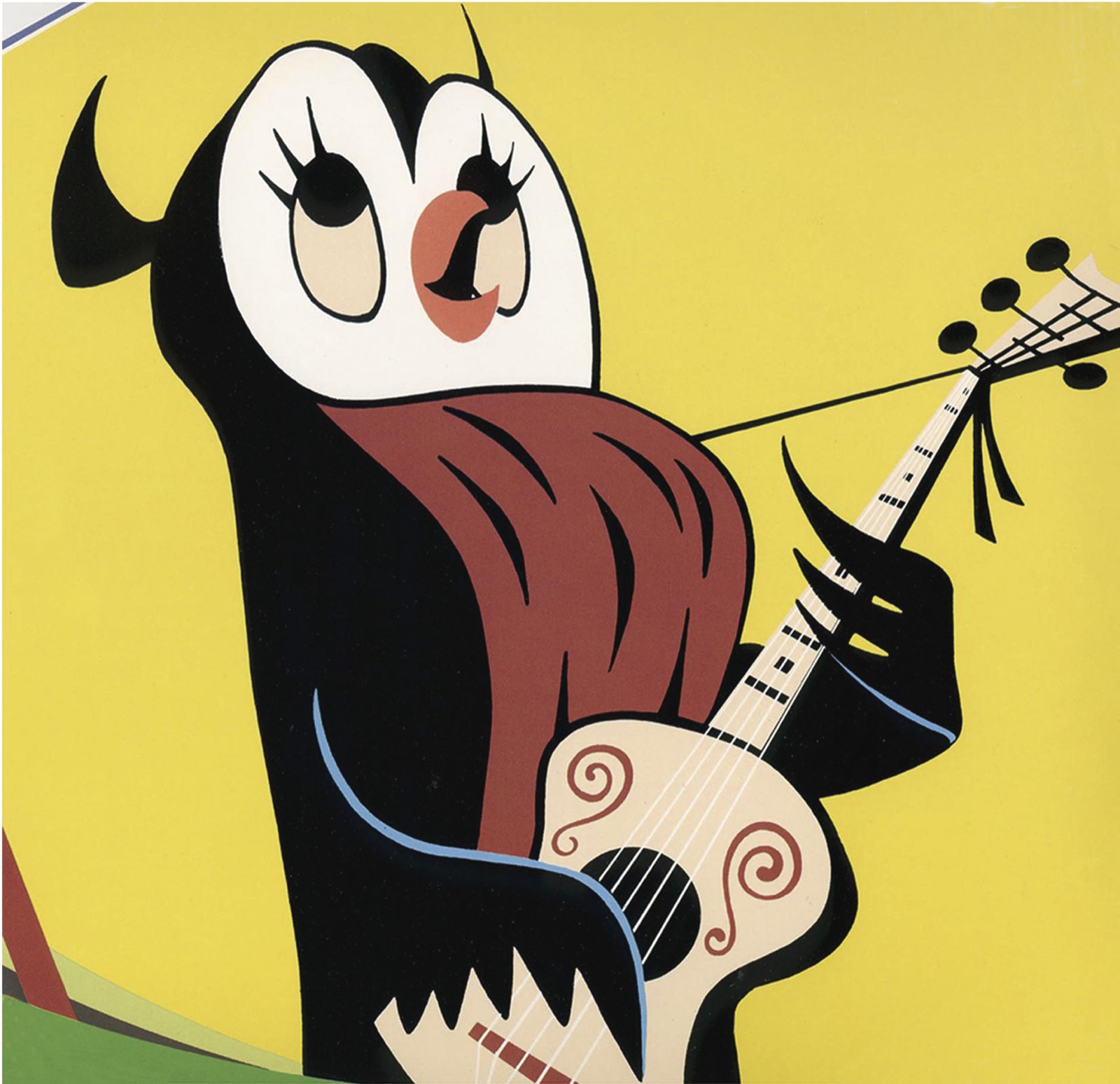 Credit: courtesy of Halas & Batchelor
PC: In what ways is the Halas & Batchelor collection still relevant and what can we learn from viewing these films today?
It's an eyewitness of our social history, that's one thing. But also artistically, although there's not really a "house style" because the studio is not auteur driven, it's teams of people, the artwork is always superb, the music is integrated into the visuals and it's also a witness to a form of animation that people don't use anymore but that has great craft and skill. My father said that animation was one of the richest art forms because it uses everything - visuals, music, and movement - and you can do anything in animation, there's no limit to what you can do. So I think it's not only very important historically, but really worth watching because it's beautiful.
PC: Is there anything else you think it's important to know about the collection?
VH: Yes, my father was Hungarian and he also made a film called A Memory of Moholy-Nagy (1990) because he was very bound up with the Bauhaus movement and he'd studied in their atelier in Budapest where he helped Moholy-Nagy make some of his early experiments in film.
In the spirit of the Bauhaus my father encouraged new talent in the studio so if you look at all the artists Halas & Batchelor worked with and trained it reads like a who's who of 20th century animation.
And it's important to not forget my mother, because, at a time when most women animators only did painting and tracing, she wrote the scripts, directed, produced and she was a very good animator. It was really difficult doing that and being a mother: when people interviewed her, they weren't so much interested in her talents as they were in her capability as a homemaker, I mean what's that about? It made her very bitter and angry. My mother, she was so intelligent and so insightful, it's a shame to see what a struggle she had.
My parents also were part of founding a society called ASIFA - International Animated Film Association - that showed animation at festivals internationally where people from different countries could meet each other and exchange ideas. Which, of course, we can do now easily, but back then it was amazing and it was so important to people because it was a way to know about what was going on in other countries. Russian animation for example, Estonian or Indian or Asian, you name it, you could see it all and exchange ideas and not feel isolated.
Both parents passionately believed in the importance of animation as an Art-form, my father wrote many books on the subject, many still in print like 'Timing for Animation', just reprinted for its 40th anniversary and my mother taught at the London Film School for many years.
Learn more about the history of Halas & Batchelor
Check out the Automania show at MOMA
View more films in the Halas & Batchelor collection
Get in touch to book these incredible films for your cinemas now