Before he traveled across the pond to Hollywood in 1939, Alfred Hitchcock cut his directing teeth on home soil. Dubbed 'Alfred the Great' by Picturegoer magazine, Hitchcock moved effortlessly from the silent to sound eras with a string of popular melodramas, crime films and spy yarns that established the young director as a prodigious talent. Tense, pacey and riveting, Hitchcock's British films show why he went on to become the 'Master of Suspense'.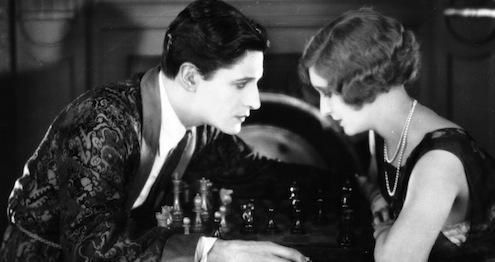 London is gripped by the reports of the seventh murder by "The Avenger", a serial killer following a strict modus operandi of preying on blonde women on dark Tuesday nights. Daisy, a young model staying with her parents and courting the detective assigned to the case, perfectly fits the bill of the killer's chosen targets. When a mysterious lodger - played with ambiguous melancholy by Ivor Novello - moves in, and Daisy begins to forge an attraction, suspicions are raised.
Widely regarded as the first true "Hitchcock film", The Lodger is a masterclass in tension, displaying all the trademarks that would become synonymous with the director's later thrillers.
Explore the rest of the Hitchcock catalo