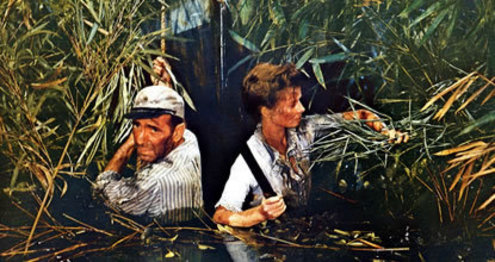 Academy Award-winning, romantic adventure THE AFRICAN QUEEN has been extensively restored and will be back in cinemas from 4 March 2011.
Three movie giants come together in this cinematic classic, combining the masterful direction of John Huston with the fabulous chemistry of Humphrey Bogart and Katharine Hepburn in their only on screen pairing.
Bogart won a well-deserved Best Actor Academy Award for his role as disreputable riverboat captain Charlie, who forms an unlikely alliance with Hepburn's straight-laced Rose. Based on the novel by C.S. Forester, this wartime romantic adventure sees the pair forced to travel together down a hazardous East African river. As they face dangers and devise an ingenious way to destroy an enemy gunboat, both discover new sides to their personalities and before long, their passionate dislike turns to love.
The 65-man strong crew worked hard under difficult conditions in the jungles of Belgian Congo and Uganda to realise the screen adaptation of THE AFRICAN QUEEN. Directed by Huston, produced by Sam Spiegel (S.P. Eagle) and shot in glorious Technicolor™ by cinematographer Jack Cardiff, the film was originally released in 1951. The acclaimed title has now been fully restored by ITV Studios Global Entertainment and Paramount Pictures. However, the process of bringing THE AFRICAN QUEEN back to its former glory was a challenge similar to that of the production of the film.
The original three-strip negative had faded and shrunk, and in some cases the colour on the master went to black and white. The existing cinema prints were suffering from registration errors that caused fringing of red and green around the figures on screen, and there was degradation with dirt and scratches on the emulsion. It was necessary to digitally scan each reel at high resolution and recombine, using computer technology to get each frame into the correct registration, remove the dirt and repair the scratches. The audio tracks also received digital treatment. Finally, the files were output to 2K Digital Cinema files, HD Video tape and a new 35mm negative was made, combining the best of Digital and Photo-Chemical techniques.
Following its $650,000 restoration, THE AFRICAN QUEEN screened to an excellent reception at this year's Cannes International Film Festival, as part of the Cannes Classics Official Selection. The film is now available for audiences to enjoy on the big screen once again.
THE AFRICAN QUEEN will open from Friday 4 March 2011 at BFI Southbank and key cities.
Click here to read The Guardian's interview with Academy Award-winning actress Anjelica Huston, where she reveals to Steve Rose how her father filmed his classic THE AFRICAN QUEEN .
Click here to watch The Guardian's video interview, where Xan Brooks talks to Danny Huston - son of the late director John Huston - about the restoration of THE AFRICAN QUEEN.