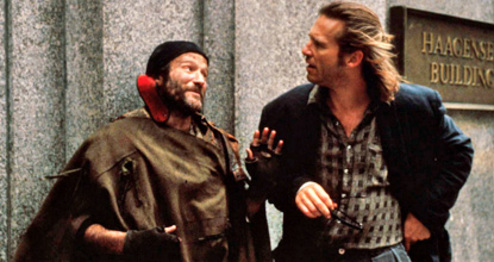 After shock jock Jack Lucas (Jeff Bridges) inadvertently provokes a caller into murdering a group of innocent people in a Manhattan bar, he grows depressed and turns to booze. As he's about to hit rock bottom, Lucas meets a homeless man named Parry (Robin Williams), whose wife was killed by the caller Lucas pushed to the brink. Mentally scarred by his loss, Parry spends his days searching for the Holy Grail. Lucas, feeling culpable for the poor man's plight, pledges to help him in his quest.
As screens go dark
Many cinemas around the world have had to close their doors during the global Covid-19 pandemic. Film festivals have been postponed and cancelled. We tip our hats to all those cinema managers and staff, and to all the festival teams playing their part in keeping audiences around the world safe and well. 
We're here for cinemas as they reopen and for festivals as they reschedule. We want to help.
Reach out to us to discuss
For joyful celebrations of cinemas reopening when it's safe to do so (and a whole lot of chat about the movies until then!), head over to our social channels.