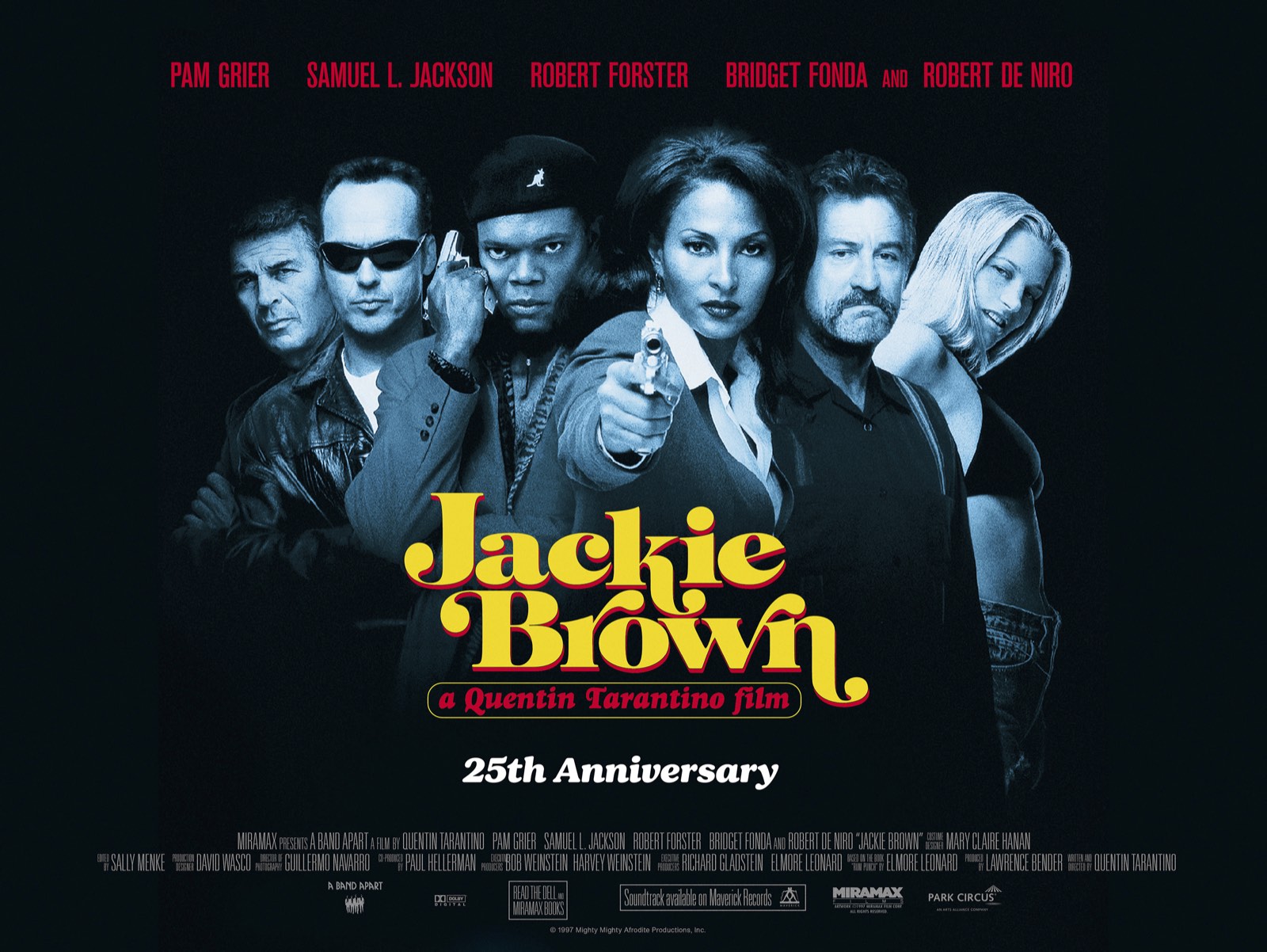 Ahead of its 25th anniversary big screen reissue from 16 September, gal-dem culture editor Kemi-Olivia Alemoru reflects on Quentin Tarantino's 1997 crime classic.
Jackie Brown is being re-released in cinemas for its 25th anniversary. Featuring Pam Grier alongside Samuel L. Jackson, Robert Forster, Bridget Fonda, Michael Keaton and Robert De Niro, this slow burning heist movie is one of Quentin Tarantino's most understated yet skillful creations. Foregoing gore and violence for surprising and sophisticated restraint he patiently develops his characters and paints a portrait of a woman who breaks free of the shackles of her poorly paid job and bad luck by using her wits.
The casting of Pam is at the centre of why this film is so widely loved. As the first ever African American woman to star in an action film, she is a cult cinema icon who holds a special place in history. The 73-year-old initially gained her fame as a leading lady in blaxploitation productions like Coffy and Foxy Brown. Her sassy persona in the latter was emulated by Beyoncé when she played Foxxy Cleopatra in Austin Powers: Goldmember. Sporting an afro, plunging necklines and 70s bell bottoms as well as a fearless attitude while exhibiting her martial arts fighting skills and doing her own stunts, she shifted gender narratives by showing that you can be tough, feminine, beautiful and black all at the same time.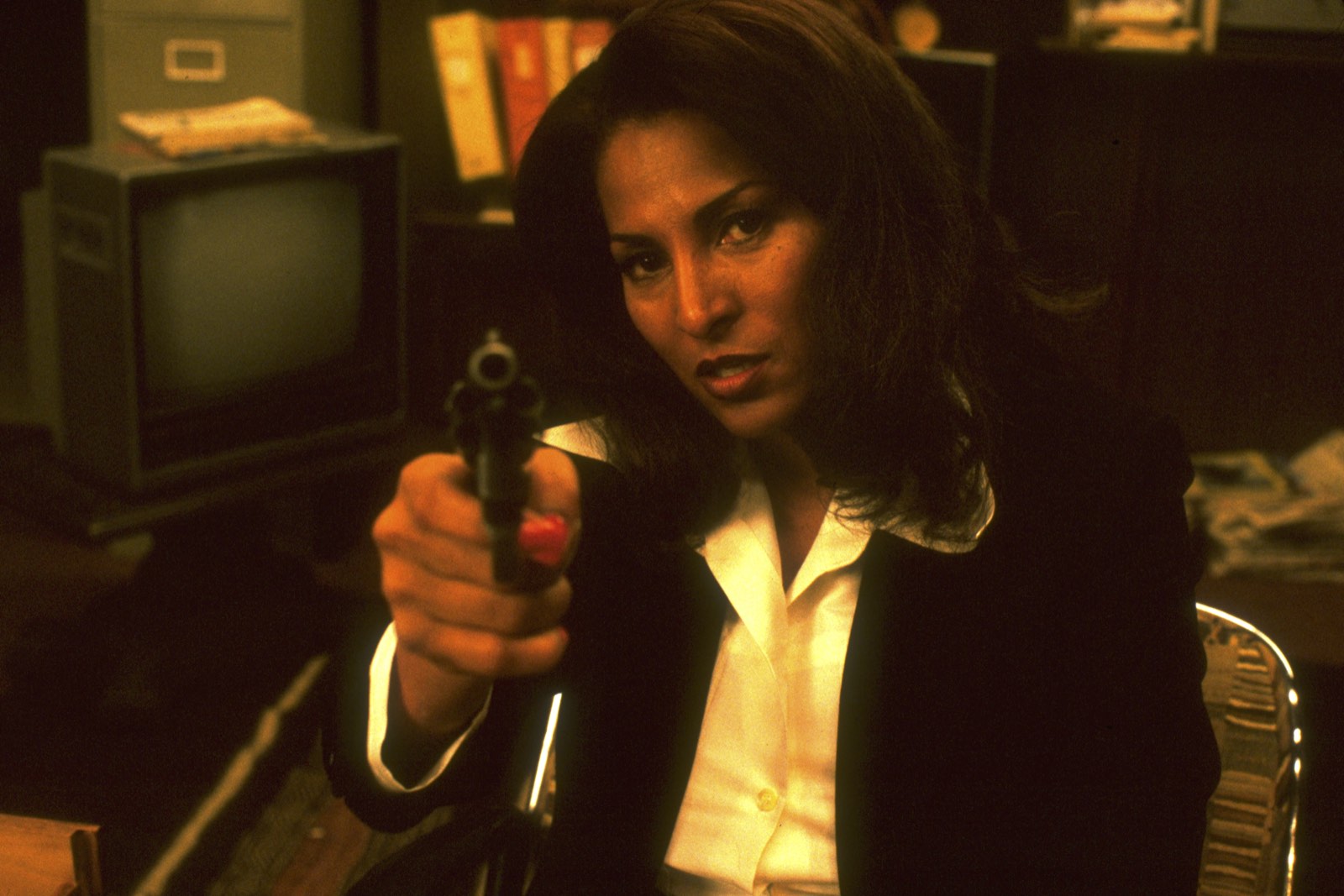 Tarantino, who has a particular penchant for action-packed genres, became hooked on the adrenaline of Blaxploitation movies in his youth after visiting theatres in downtown LA. The cinematic maverick admired the soundtracks laden with heavy bass, funk and soul. Warts-and-all plotlines that showed drugs, sex workers and pimps, scenes with nudity and violence and woven in the unapologetic storytelling is an exploration of shifting race relations in a changing America. It was through this window into black storytelling that he first became a fan of Grier.
Many bill Jackie Brown in 1997 as her comeback. Grier hadn't disappeared by the late 90s at all. She'd starred in Tim Burton's camp sci-fi comedy Mars Attacks! just a year prior and was still making appearances in TV series like Miami Vice, The Cosby Show, and The Fresh Prince, however it had been a while since she took a lead role in a blockbuster release. Tarantino had already name-dropped the actress in Reservoir Dogs in the car story scene and later invited her to audition for Pulp Fiction. When the part went to Rosanna Arquette he decided to adapt Rum Punch, Elmore Leonard's tale of a middle aged flight attendant who tries to outsmart the FBI when she gets caught in a drug trafficking money laundering scheme.
It's a departure from his work in that it is not an original tale but it is still a pastiche of the cinema and the stars that had inspired him to pursue his craft. The protagonist's name was changed from Jackie Burke to Jackie Brown as a nod to Grier's Foxy Brown portrayal. With this titular tribute it fits therefore that the project was a clear homage to black crime films that interpolates the classics of the blaxploitation genre, calling on Roy Ayers' funk score from Coffy, and of course using Bobby Womack's 'Across 110th Street' for the film's title scene. We watch Grier's side profile glide across the screen, her curves embellished by an electric blue blazer as she makes her way through the airport and the credits roll.
Hot on the heels of Pulp Fiction, Jackie Brown showed another side to the hyperactive director, revived the career of one of black cinemas most captivating actresses and is a love letter to the grit, freedom and provocation of the blaxploitation era of cinema.
---
Kemi-Olivia Alemoru is a London-based writer, editor, host and consultant. She is culture editor at gal-dem and writes for Dazed, Vogue and The Guardian. Find her on Twitter here.
Jackie Brown is back in cinemas across the UK & Ireland from Friday 16 September.