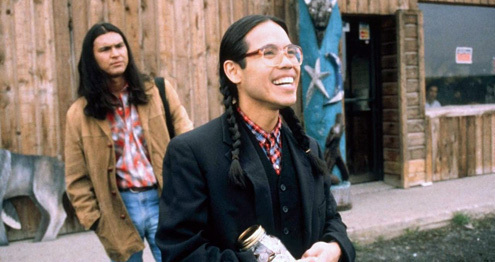 Smoke Signals caused a considerable critical and cultural stir upon its release in 1998. The contemporary road movie about two young Native Americans leaving the Coeur d'Alene Reservation and journeying from Idaho to Arizona to recover the remains of their absentee father figure made its mark as an effective study of burgeoning manhood and contrasting cultures, but also received as much attention thanks to its claim of being the first feature to be made by a cast and crew of Native Americans.
Viewed in retrospect as its 20th anniversary approaches, both points still seem to stand. Few films made by or for Native Americans have achieved the same sort of visibility, and the enduring warmth for Smoke Signals from Native and non-Native audiences alike speaks of an appeal that runs deeper than the significance of its groundbreaking production history.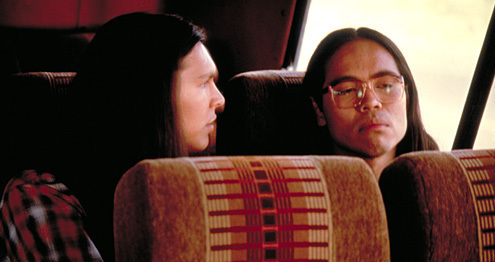 Though inevitably burdened with a certain degree of expectation, Smoke Signals refuses to essentialise, romanticise or fetishise its Native heritage. Fully grounded in the culture it represents, its narrative situation emerges naturally; the realities of the Coeur d'Alene captured with critical self-awareness and a playful dose of self-parody. Our chalk and cheese protagonists neatly express the film's willingness to problematise any reductive notions of Native identity. There's Thomas - obsessed with romantic visions drawn from Dances with Wolves - and Victor - bristling at John Wayne cowboy types and advising his sensitive companion to "get stoic." Together, they bicker about who they are, and debate what they're meant to become. Added to this, there's the contested story of Victor's father, Arnold, too - a sometimes hero, sometimes villain, given full life here by Gary Farmer, star of Dead Man and another Native road move, Powwow Highway.
Caught in a double-bind between uncertain futures and occluded pasts, Thomas and Victor are men in development living within a culture in flux. Smoke Signals explores their struggles with honesty, poignancy and humour. Still affecting 20 years on, it shows a fluency in the narrative mechanics of the road movie and the coming-of-age tale, and - perhaps more significantly - in the nuances of character, their lives and language.