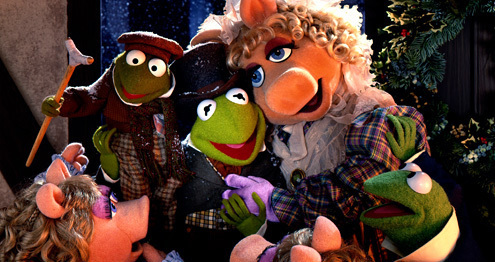 Cinemas across the UK and Ireland are celebrating with Jim Henson's madcap troupe as their still-fresh festive fable breezes to its 25th anniversary in 2017.
Helmed by Mr. Dickens himself (or is that Gonzo…?), The Muppet Christmas Carol is a raucous retelling of the writer's beloved novella that's faithful to both the Muppets' inimitable brand of anarchic entertainment and to its source material - give or take a frog or two.
Michael Caine stars as the miserable old miser Ebenezer Scrooge who is visited by a number of ghosts on Christmas Eve and encouraged to change his cruel ways before it's too late. He meets his Muppet-y match courtesy of a cast of supporting players that includes memorable turns from Kermit the Frog as Bob Cratchit, Miss Piggy as his long-suffering wife, Emily, Statler and Waldorf as the spectral Marley brothers (woooooo!) and Rizzo the Rat as... himself.
The Muppet Christmas Carol returns to cinemas across the UK and Ireland from 4 December.