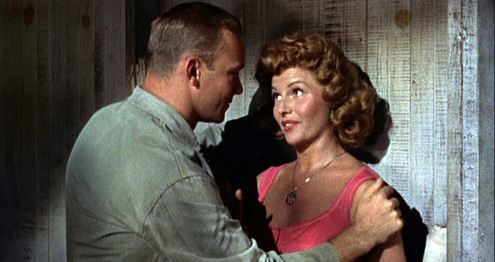 Starring Rita Hayworth, José Ferrer and Charles Bronson, Miss Sadie Thompson tells the story of a bawdy night club entertainer stranded on a tropical island during World War II.
In addition to the these four classics restored in modern 3D, many other key 1950s 3D titles are available to book in 2D from Park Circus. These are highlighted in the following brief history of the 1950s 3D craze.
The 3D process was first brought to the big screen in the 1920s, but it wasn't until the 1950s that the 'Golden Era' of 3D began. The film that started the craze was Bwana Devil, the story of man-eating lions disrupting the building of the Uganda railroad. The 3D polarising system used in the creation of Bwana Devil was different than the one used in the 1920s and it was the first full colour 3D feature. This contributed greatly to the success of the film. It became an overnight sensation and the film industry jumped to embrace the new technology.
1953 saw two groundbreaking features in 3D: (restored in modern 3D) and , the latter representing the first 3D feature that had stereo sound. The success of these two films proved that major studios now had a method of getting audiences back into theatres and away from the newly-popular television sets, which were causing a steady decline in cinema attendance.
But the 1950s 3D craze proved short-lived; on one hand, exhibitors still felt uncomfortable with the system and turned their focus instead to widescreen formats such as CinemaScope, and on the other hand viewers complained of headaches caused by the new polarising 3D glasses. One of the final 3D efforts of the 1950s, 's came too late for the fad, resulting in most original audiences only seeing the film in 2D. Dial M for Murder has been recently restored in modern 3D and is available internationally for theatrical bookings on DCP.