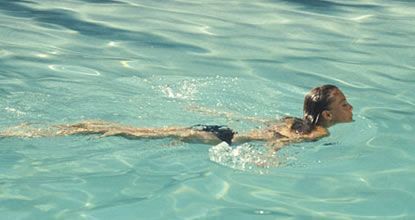 </a>La Piscine re-release poster
Film blogger Jack Bell looks back at 1969's La Piscine and discovers a film that has much going on beneath the surface.
La Piscine marries the American consumerist aesthetic style with the chic glamour of the French Riviera in the 1960s. Add this to a cast comprising of four of the most photogenic actors to appear on screen and you have a recipe for a classic.
That is what director Jacques Deray achieved with his 1969 work and what audiences in the UK will now be able to enjoy on its theatrical re-release from 30th September.
We are able to listen to smooth jazz played on vinyl, hear the roar of an American muscle car's engine, admire some fine examples of elegant 60s fashion and, of course, bask in the most luxurious item of them all, a swimming pool.
Often, French cinema carries a misconstrued perception of being pretentious, too philosophical in its screenplays and difficult for audiences to relate to. Here, La Piscine presents a quartet of bourgeois characters who audiences may not well relate to but will be drawn to due to an ever-present attribute of French films; a suspenseful plot.
As in two recently re-released classic French films, Truffaut's La Peau Douce and Clouzot's Les Diaboliques, La Piscine represents a complex psychoanalytical character study that draws in the spectator to create a gripping storyline. It is the subtle intensity of the cast's overall performance coupled with the typical slick aesthetic style so recurrent in great works of French cinema that will make this film attractive for modern audiences.
The lead couple of Jean-Paul and Marianne, played excellently by Alain Delon and the stunning Romy Schneider, rent out a picture perfect villa on the outskirts of St. Tropez for the summer. However, relaxation soon turns to tension when their fellow friend Harry arrives with his beautiful young daughter Penelope.
Romy Schneider and Alain Delon in La Piscine
Unsure of the characters' pasts with each other, Deray masterfully teases and tantalises the audience in his portrayal of these characters as they become paranoid in each others company in the villa's ironically conveyed claustrophobic surroundings (several scenes depict characters as if trapped in a cage).
Each character brings an elegance and sexiness to the screen that makes much of the film sensual, enforced through Deray's voyeuristic style of filmmaking. As shots track slowly over the half naked bodies of the beautiful cast ensemble the audience is treated to a feast for the eyes, not only physically but naturally as well when considering the film's location. La Piscine is the perfect film for escapism on a wet October night.
Deray adopts a new form of star-gazing as the camera subtly follows the ménage-à-quatre relationship around the swimming pool. The characters weave in and out of shot, often leaving the audience and the characters themselves unaware and unsure of whom is watching who, with the dialogue shared between them acting as a front for the emotional complexities evoked in their dark expressions.
There is a lot left unsaid in these dialogue exchanges that entice the viewer into trying to work out the true personas of these troubled bo-bos (French colloquialism for bohemian-bourgeois). Can we trust them, can they trust each other, are they amiable to us? The relative calmness of the surroundings (barring one party sequence) is beautified by the swimming pool yet there are surprises and disruption in store as the plot develops and emotions gradually come to the fore.
Cinéphiles may label La Piscine as a low-brow French film when put in the same bracket as the films of Truffaut or Renoir yet this is a film that shocks, suspends and attracts. The psychological edge to this film on top of its unashamed and fantastic showcase of style and glamour make this a must see in cinemas next month.
La Piscine is out in cinemas in the UK from 30th September and will be showing at BFI Southbank and the Filmhouse in Edinburgh.