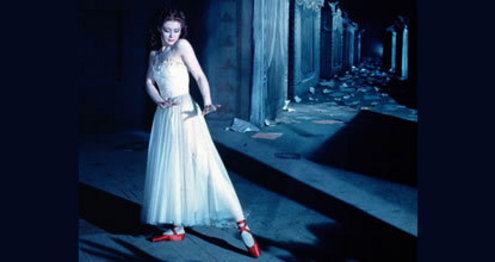 Michael Powell and Emeric Pressburger's masterpiece, the Academy Award-winning classic THE RED SHOES, has been fully restored and will be back in UK cinemas from Friday 11 December 2009.
"Michael Powell and Emeric Pressburger created a vision in THE RED SHOES that has never really been matched. Truly the most beautiful Technicolor film ever made." - Martin Scorsese (2009)
Re-released by Park Circus, this beautifully restored version of THE RED SHOES received its World Premiere at the Cannes International Film Festival 2009, introduced by Martin Scorsese and Academy Award-winning film editor, and widow of Michael Powell, Thelma Schoonmaker. The restoration has since then delighted audiences at this year's Edinburgh International Film Festival and Cinema Ritrovato, Bologna.
The innovative and visually stunning production stars Moira Shearer as talented young dancer Victoria Page, cast in the leading role of the ballet The Red Shoes. As Victoria falls in love with up-and-coming composer Julian Craster (Marius Goring), she finds herself torn between simple human passion and the disciplined artistic devotion demanded by Boris Lermontov (Anton Walbrook), her jealous ballet company master. THE RED SHOES also stars Robert Helpmann, who both acted in the film and choreographed the ballet of The Red Shoes, the music for which was conducted by Sir Thomas Beecham.
UCLA Film and Television Archive and Martin Scorsese's non-profit organisation The Film Foundation worked on the restoration from Autumn 2006 to Spring 2009. Meeting challenges such as dirt, scratches and mould, extensive digital restoration was the only way to bring back the directors' original vision and 4K resolution was used at every stage of the digital picture restoration work. Digital techniques were also employed to remove pops, thumps, crackles and excessive background hiss from the film's original variable density optical soundtrack. The end result is a dazzling restoration of THE RED SHOES, now available for UK audiences to enjoy on the big screen.
THE RED SHOES opens from Friday 11 December at BFI Southbank, Everyman Hampstead, Gate Notting Hill, Ritzy Brixton, QFT Belfast, Watershed Bristol, Arts Picturehouse Cambridge, Light House Dublin, Filmhouse Edinburgh, Cinema City Norwich, Showroom Sheffield and cinemas nationwide, presented in Digital Cinema and new 35mm prints.