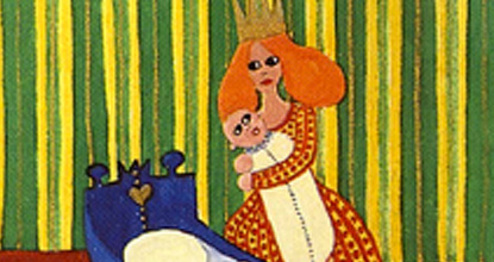 Old favourites in a colourful graphic style. A series of 6 films based on the stories of The Brothers Grimm, Charles Perrault and Hans Christian Anderson, with cutout collages designed by Sunniva Kellquist. Childhood would not be the same without the enchantment of Fairyland, and children will be delighted with these classics that have been loved by so many generations.
The Frog Prince Only a kiss from the princess can save the prince from the witch's magic spell.
Rumpelstiltsin A strange little man helps the miller's daughter but demands something in return when she marries the king.
Hansel and Gretel The witch's house is full of delights but can Gretel save her brother from a horrible fate?
Sleeping Beauty A princess must sleep for a hundred years and only a kiss from the prince can awaken her.
The Ugly Duckling Rejected by the other ducks, the ugly duckling can only find happiness when he grows up and finds he is not a duck at all!
Little Tom Thumb Tom proves he is cleverer than his big brothers when he outwits the ogre and comes home with the treasure.