Live Flesh (Carne Trémula)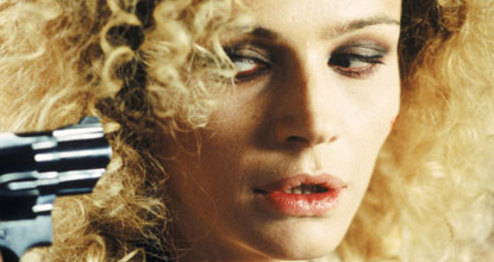 Victor Plaza (Liberto Rabal) is a child of Franco's Spain, born on a bus that was taking his mother, a prostitute, to the hospital. In spite of this, Victor is young and life has not destroyed his trust in people, particularly Elena (Francesca Neri) the daughter of a diplomat and the woman with whom he shares his first sexual experience.
Victor, believing the experience was not a casual one, soon discovers things are not usually as straightforward as one would hope. Nerves, a gun and two policeman are involved when Victor tries to see Elena again, and a violent encounter changes all their lives. A policeman, Sancho (Jose Sancho) precipitates a violent incident into which Victor is dragged. David (Javier Barden) is hit by a stray bullet that leaves him paralyzed and in a wheelchair for the rest of his life. Victor is blamed and sent to prison where he watches helplessly as David becomes a paralympics star, with Elena - now his wife.
Fate, however, intervenes again. When Victor is released from prison, he visits his mother's grave, only to find Elena and David at the cemetery. Now Victor has the chance to settle old scores - but from this moment on they are all locked in a game which has only just begun.